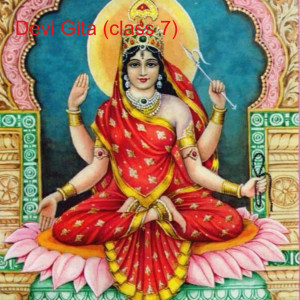 Wednesday Apr 27, 2022
Devi Gita (class 7): "The Beginning of Sadhana" by Swami Bhajanananda Saraswati
Scripture class by Rev. Dr. Swami Bhajanananda Saraswati on Devi Gita, chapter 1, verses 20 & 21 giveento students of the Ramakrishna Seminary at Kali Mandir on 27 April 2022.
इत्यादिश्य सुरान्सर्वान्महाविष्णुः स्वजायया | संयुतो निर्जगामाऽशु देवैः सह सुराधिपः || २० ||
ityādiśya surān-sarvān-mahā-viṣṇuḥ svajāyayā | saṃyuto nirjagāmā'śu devaiḥ saha surādhipaḥ || 20 ||
20. "Thus enjoining all the gods and accompanied by his wife, the great Vishnu, as chief of the gods, set forth at once with his fellow lords."
आजगाम महाशैलं हिमवन्तं नगाधिपम् | अभवंश्च सुराः सर्वे पुरश्चरणकर्मिणः|| २१ ||
ājagāma mahā-śailaṃ himavantaṃ nagādhipam | abhavaṃśca surāḥ sarve puraścaraṇa-karmiṇaḥ || 21 ||
21. "He came to the great rocky crag, Himalaya, Lord of mountains, and all the gods commenced the preliminary acts of worship."
___________
https://www.ramakrishnaseminary.org/